MESSAGE FROM FR. NICOLAS
My beloved friends and Parishioners of Saint Spyridon family,
I am very excited to welcome our Sunday School children back for a new year! As I often say, the life of our community should be based on three pillars: liturgy, education and charity. Our Sunday School is a wonderful opportunity to share our faith and hope in Jesus Christ with our children. They are exposed to the teaching of the Orthodox Church not only intellectually through lesson content, but also as an experience that they will carry with them throughout their lives. Sunday School is about teaching and learning, but also being a Christian in today's world. It is crucial that our children are involved. I am very grateful to the Sunday School teachers for their commitment and I wish you all, children, parents and teachers, a blessed school year!
I am also very proud to announce that our community has raised $ 1,000 for the victims of Hurricanes Harvey and Irma. The contribution was sent to IOCC. Thank you for your generosity.
With love in Christ,
Fr. Nicolas
---
CALENDAR
---
IN TIMES OF ILLNESS
"Come, O blessed of my father, inherit the Kingdom prepared for you from the foundation of the world; for I was sick and you visited me." (Matt. 25:31-46).
When a member of our Parish is ill and has been hospitalized or may be recuperating at home, the immediate family of the ill person should contact Father Nicolas at (212) 795-5870. It is beneficial to both the body and the soul when our priest prays for us when we are healthy or ill.
---
RESERVING YOUR WEDDING DATE
Before reserving a reception hall for your wedding, remember to verify that the church allows weddings on that day.
---
SCHEDULE OF SERVICES
Please join us every Sunday for the celebration of the Divine Liturgy, followed by fellowship and coffee in our Social Hall.
Sundays: Orthros (Matins): 9:00 AM | Divine Liturgy: 10:15 AM
Complimentary valet parking on Sundays.
If you are interested in sponsoring a Coffee Hour after Church Services on Sunday, please call the church office.
For additional information on church services, please contact the Church office at (212) 795-5870 between the hours of 9:00 AM - 5:00 PM, Monday through Friday.
---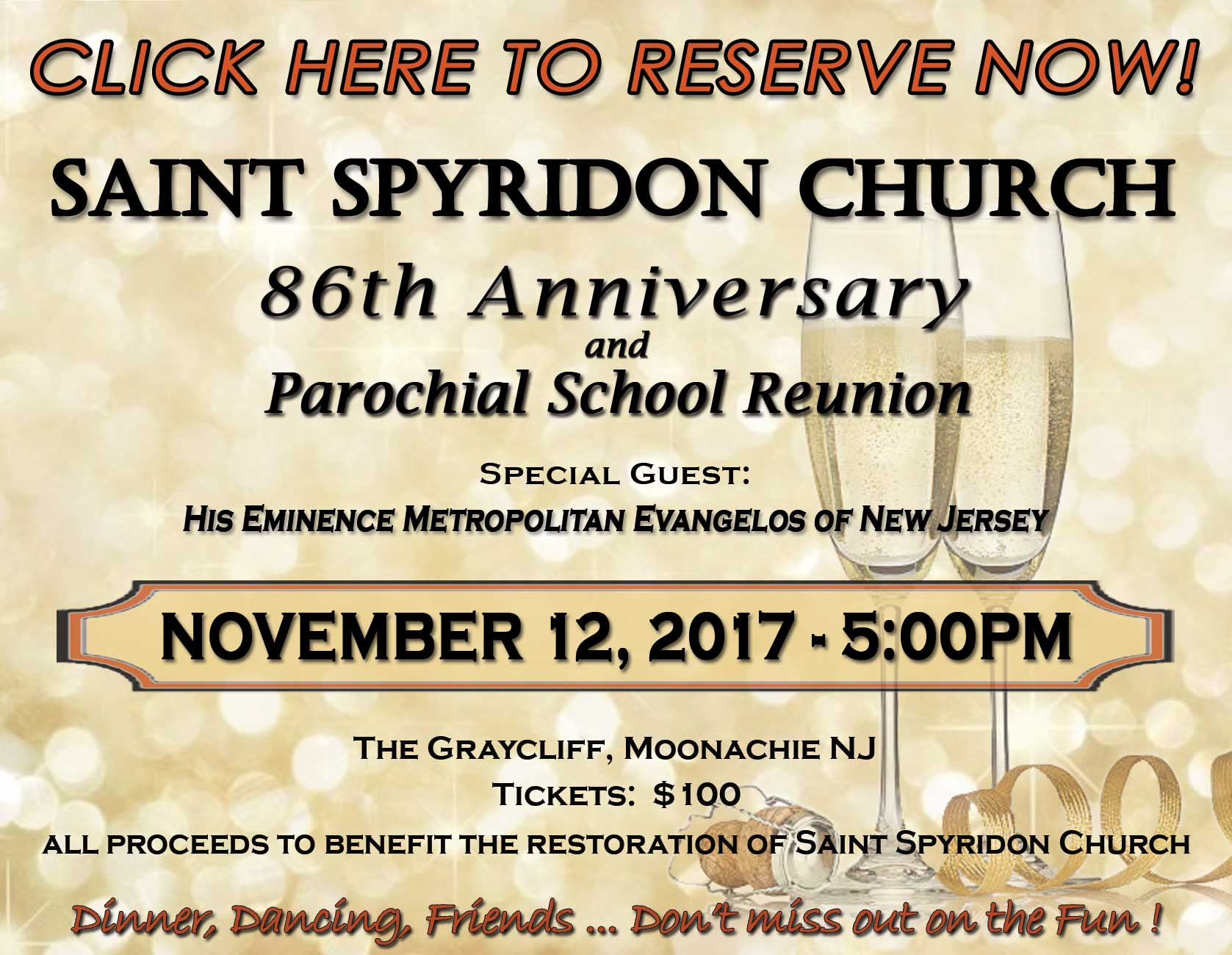 ---
PARISH UPDATES
SUNDAY SCHOOL: The first day of Sunday School will be on Sunday September 24. Sign up on your first day. All children are welcome. Fr. Nicolas will be blessing the children with a special prayer for the beginning of the school year.
PHILOPTOCHOS GENERAL MEETING: On Thursday, October 5 th the Philoptochos will be hosting our first General Meeting in the Church Hall at 11:00 am. We will be serving a light lunch and dessert. We will also offer Free Raffles with lovely prizes for all participants. It will be a wonderful opportunity to greet friends and catch up on the news of our Church, our Philoptochos, our friends and families.
KID'S SERMON: Join us for Fr. Nicolas's monthly kid's sermon beginning on Sunday October 15. Check our church calendar for future dates.
ANNUAL FESTIVAL AND BAZAAR: Be sure to stop by St. Spyridon on October 27, 28, and 29 for our Annual Festival featuring delicious Greek Food and Pastries.
RESTORATION PROJECT: The restoration of our beautiful church continues. Every week there are new things to see. We hope you will all participate and donate the restoration of an icon or area of your choosing. The more funds we receive; the more areas of restoration will be completed.
Read about the restoration on page 22 of the June-July-Aug 2017 issue of the Orthodox Observer: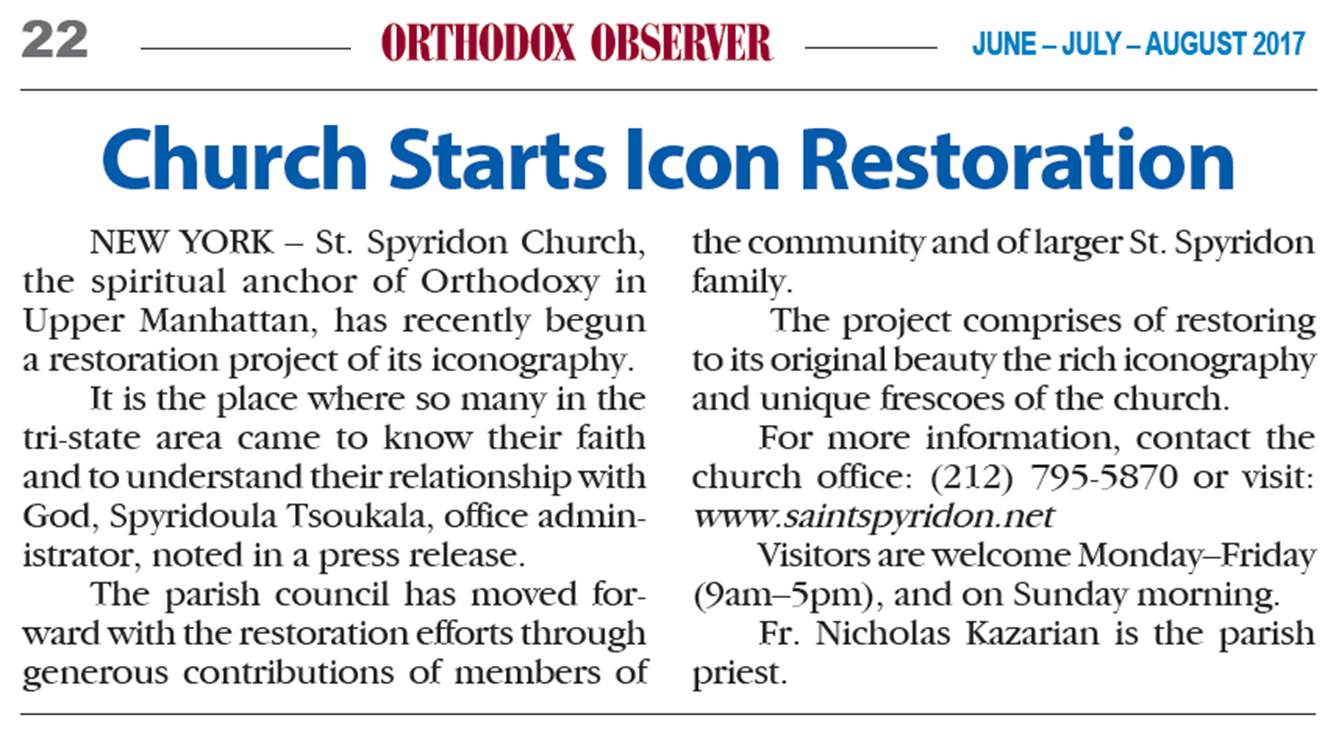 ---
Online Chapel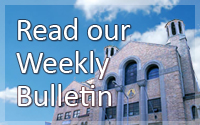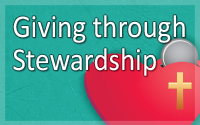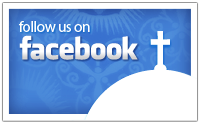 ST. SPYRIDON GREEK ORTHODOX CHURCH
124 Wadsworth Avenue
New York, NY 10033
Phone: (212) 795-5870
Fax: (212) 795-4758
Email: office@saintspyridon.net
Presiding Priest:
Rev. Nicolas Kazarian