FATHER NICOLAS' MESSAGE
My Beloved Friends and Parishioners of Saint Spyridon family,
Saint John Climacus is commemorated on the fourth Sunday of Great Lent. He says in one of his writings: "I do not fast excessively, nor do I give myself over to intense all-night vigil, nor lay upon the ground, but I restrain myself..., and the Lord soon saved me." For St. John, grace is a gift, and in his book The Ladder he describes the ascent toward spiritual perfection.
Join us, during your spiritual journey towards Pascha, for the weekday services, the Lenten Conference Series and our Lenten project.
With Christ's love,
Fr. Nicolas
---
CALENDAR
---
SUNDAY SERVICES
Please join us every Sunday for the celebration of the Divine Liturgy, followed by fellowship and coffee in our Social Hall.
Sundays: Orthros (Matins): 9:00 AM | Divine Liturgy: 10:15 AM
Complimentary valet parking on Sundays.
If you are interested in sponsoring a Coffee Hour after Church Services on Sunday, please call the church office.
For additional information on church services, please contact the Church office at (212) 795-5870 between the hours of 9:00 AM - 5:00 PM, Monday through Friday.
---
IN TIMES OF ILLNESS
"Come, O blessed of my father, inherit the Kingdom prepared for you from the foundation of the world; for I was sick and you visited me." (Matt. 25:31-46).
When a member of our Parish is ill and has been hospitalized or may be recuperating at home, the immediate family of the ill person should contact Father Nicolas at (212) 795-5870. It is beneficial to both the body and the soul when our priest prays for us when we are healthy or ill.
---
RESERVING YOUR WEDDING DATE
Before reserving a reception hall for your wedding, remember to verify that the church allows weddings on that day.
---
PARISH UPDATES
KID'S SERMON. Join us for Fr. Nicolas' next monthly kid's sermon on Sunday, March 18. Check our church calendar for future dates.
---
LENTEN CONFERENCE SERIES: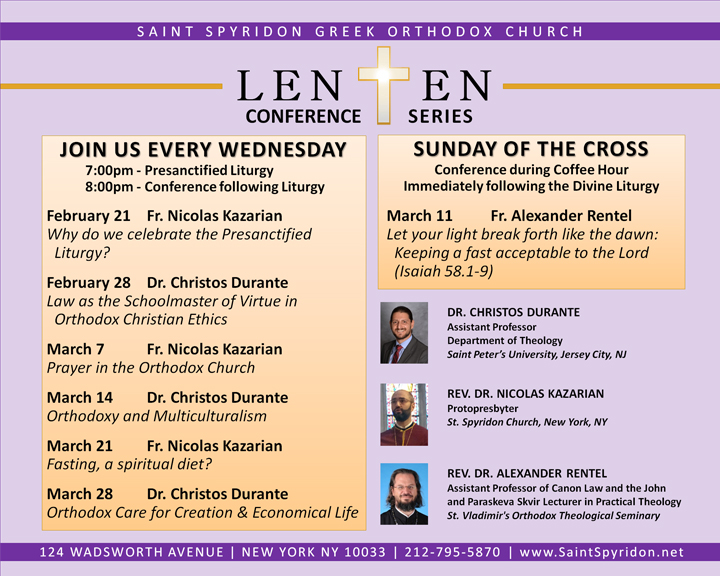 Join us on Wednesday evenings during Lent after the Presanctified Liturgy for our conference series. A complete list of dates and topics is provided in our Conference Series Flyer.
Upcoming topics are:
Wednesday, March 21: Fr. Nicolas Kazarian discusses "Fasting, a spiritual diet?"
Wednesday, March 28: Dr. Christos Durante discusses "Orthodox Care for Creation & Economical Life"
---
PALM SUNDAY BAKE SALE. On Sunday, April 1, purchase your Greek pastries at our Bake Sale.
There will be a selection of Baklava, Koulourakia, Tsourekia and much more including Nistisima Desserts.
Featuring boxed, round, handmade Tsourekia from the Monastery of Agia Skepi for $20. Order in advance by calling the church office.
---
PALM SUNDAY LUNCHEON: Sunday April 1, immediately following the Divine Liturgy.
Traditional Bakaliaro Skordalia Luncheon, $30. Optional Mac and Cheese Lunch for children under 10 years old, $5.
Come and enjoy a wonderful meal with friends and family. For reservations, call the church office.
---
JOIN OUR PHILOPTOCHOS. The Philoptochos Society of St. Spyridon asks for your renewed or new membership. Our chapter was established in 1944 and has been in continuous service to those in need in our community, nationally and internationally.
Please join our chapter and become an active member. We welcome all interested women. Please note that we are obliged to send $15 to National Philoptochos and $8 to the Direct Archdiocesan Distract per member. We greatly appreciate any amount you wish to give.
---
RESTORATION PROJECT. The restoration of our magnificent church continues. Every week there are new things to see. We hope you will all participate and donate the restoration of an icon or area of your choosing. The more funds we receive; the more areas of restoration will be completed.
Make a donation to the Restoration Fund here via Paypal:
The photo below shows the scaffolding going up on December 13, 2017 as we begin Phase 2 of the restoration project. The scaffolding will be up inside the nave for at least 3 months to finish restoring our rich iconography. With the help of God, we should be done just before Easter.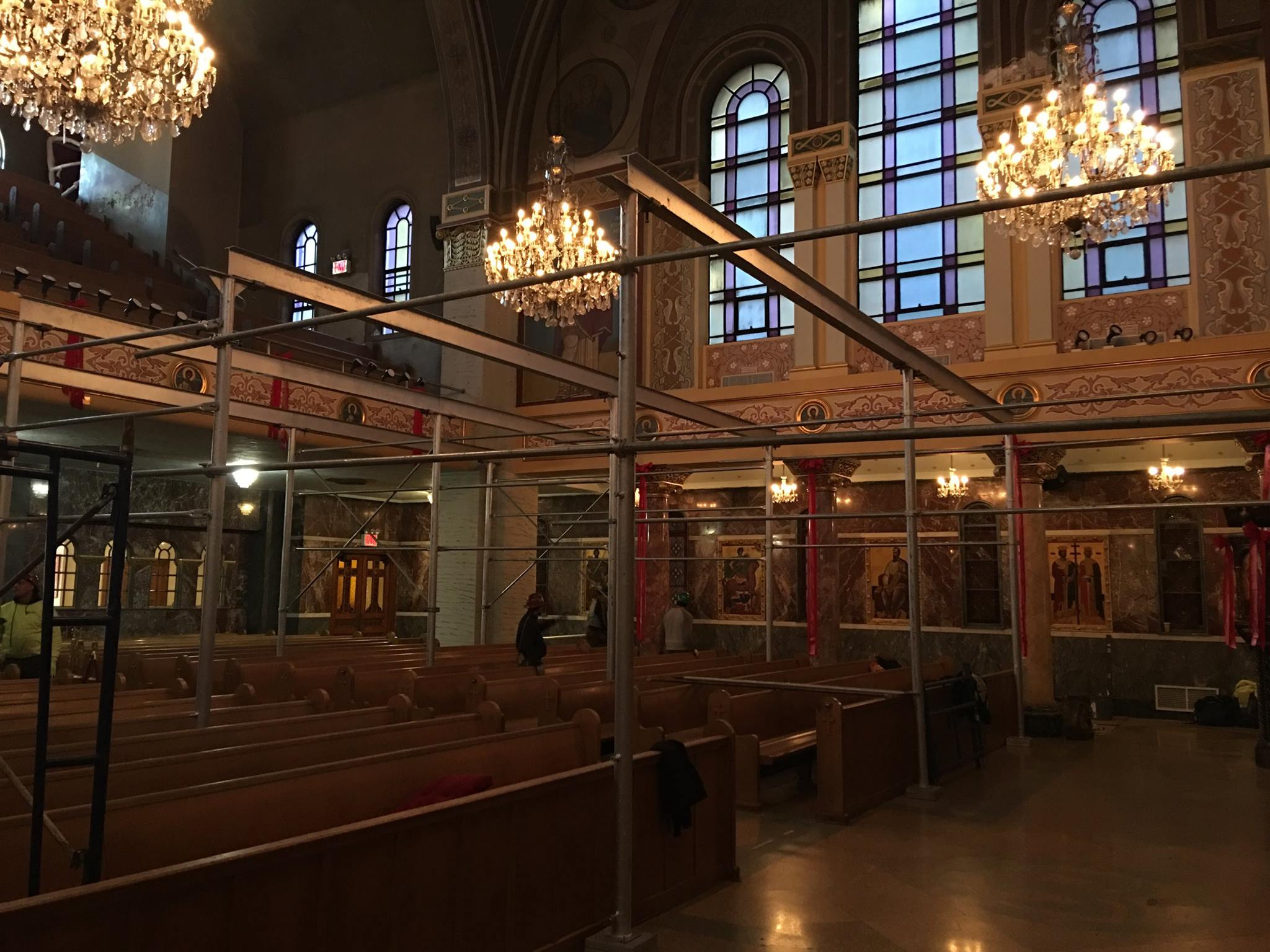 Read about the restoration on page 22 of the June-July-Aug 2017 issue of the Orthodox Observer: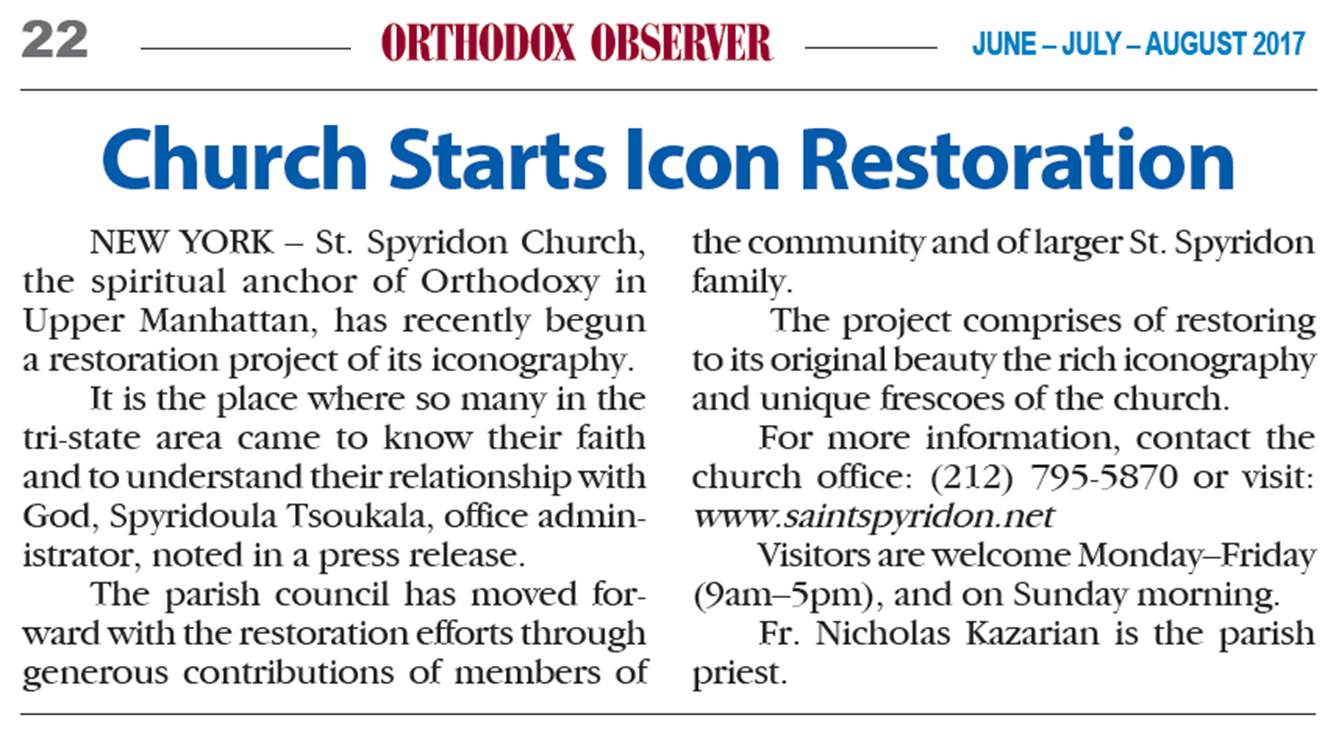 ---
Online Chapel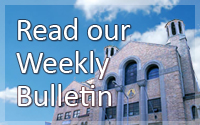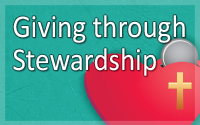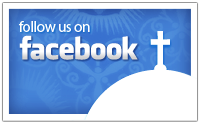 ST. SPYRIDON GREEK ORTHODOX CHURCH
124 Wadsworth Avenue
New York, NY 10033
Phone: (212) 795-5870
Fax: (212) 795-4758
Email: office@saintspyridon.net
Presiding Priest:
Rev. Nicolas Kazarian
For emergencies: (267) 588-2667