FATHER NICOLAS' MESSAGE
My Beloved Friends and Parishioners of the Saint Spyridon family,
It was heartwarming to see so many of you on August 15 for the Feast of the Dormition of the Theotokos. Thank you for making St. Spyridon your spiritual home.
Summer is coming to an end and starting in September we would like to begin some new initiatives. Among them, we are contemplating the idea of starting a Greek after-school program. We also intend to launch a monthly Orthodox Study Group, starting September 19. Please let us know if you would like to be involved with or are available for future activities.
Once again, Kali Panaghia! Most Holy Theotokos save us!
With Christ's love,
Fr. Nicolas
---
CALENDAR
---
SUNDAY SERVICES
Please join us every Sunday for the celebration of the Divine Liturgy, followed by fellowship and coffee in our Social Hall.
Sundays: Orthros (Matins): 9:00 AM | Divine Liturgy: 10:15 AM
Complimentary valet parking on Sundays.
If you are interested in sponsoring a Coffee Hour after Church Services on Sunday, please call the church office.
For additional information on church services, please contact the Church office at (212) 795-5870 between the hours of 9:00 AM - 5:00 PM, Monday through Friday.
---
IN TIMES OF ILLNESS
"Come, O blessed of my father, inherit the Kingdom prepared for you from the foundation of the world; for I was sick and you visited me." (Matt. 25:31-46).
When a member of our Parish is ill and has been hospitalized or may be recuperating at home, the immediate family of the ill person should contact Father Nicolas at (212) 795-5870. It is beneficial to both the body and the soul when our priest prays for us when we are healthy or ill.
---
RESERVING YOUR WEDDING DATE
Before reserving a reception hall for your wedding, remember to verify that the church allows weddings on that day.
---
PARISH UPDATES
Saint Spyridon Church is highlighted in the July-August 2018 issue of the Orthodox Observer!
Read it here: Inner-City Church, Once the Archdiocese's Largest, Adapting to 21st Century
---
VOLUNTEERS NEEDED to help with Greek After-School Program In an effort to strengthen its youth ministry, St. Spyridon Church needs your time, treasure and talent. We are very encouraged by the presence and energy of families and their children in our community.
To better serve them, we want to start a Greek after-school program.
We are currently looking for:
a Greek teacher
a Greek Dance teacher
Please contact the church office at 212-795-5870 or send an e-mail to office@saintspyridon.net if you can offer some assistance.
---
ST. BASIL ACADEMY/YANKEE GAME. SAVE THE DATE. On Sunday, September 16, our Sunday School will host the children of St. Basil Academy at at NY Yankees game. If you would like to sponsor a child or make a donation or join us, please contact Jeanne Palaigos through the church office.
---
ORTHODOX STUDY GROUP. We are pleased to offer an Orthodox Study Group following the monthly service of the Paraclesis to the Theotokos. 6pm Paraclesis; 7pm Study Group. For more information, refer to our Orthodox Study Group flyer.
Wed. Sep 19, 2018: What does it mean to be Greek Orthodox today?
Wed. Oct 17, 2018: The Holy Tradition - Source of the Faith
Wed. Nov 14, 2018: Exploring the Meaning of the Entrance of the Theotokos into the Temple
Wed. Dec 19, 2018: Understanding the Lord's Prayer
---
INAUGURAL CELEBRATION. SAVE THE DATE. On Sunday, October 14, His Eminence Metropolitan Methodios of Boston will preside over the Divine Liturgy following the Completion of the Restoration Project.
---
RESTORATION NEWS
Please make a donation to the Restoration Fund here via Paypal:
May 3, 2018: Thank you to Mr. Dionysios Mamalos and CorfuTV for this wonderful video about our church's Restoration Project.
March 29, 2018: Exciting News... the scaffolding has come down to reveal the most magnificent iconography at Saint Spyridon Church. We invite you to come and witness the beauty of our church. It will leave you speechless!!!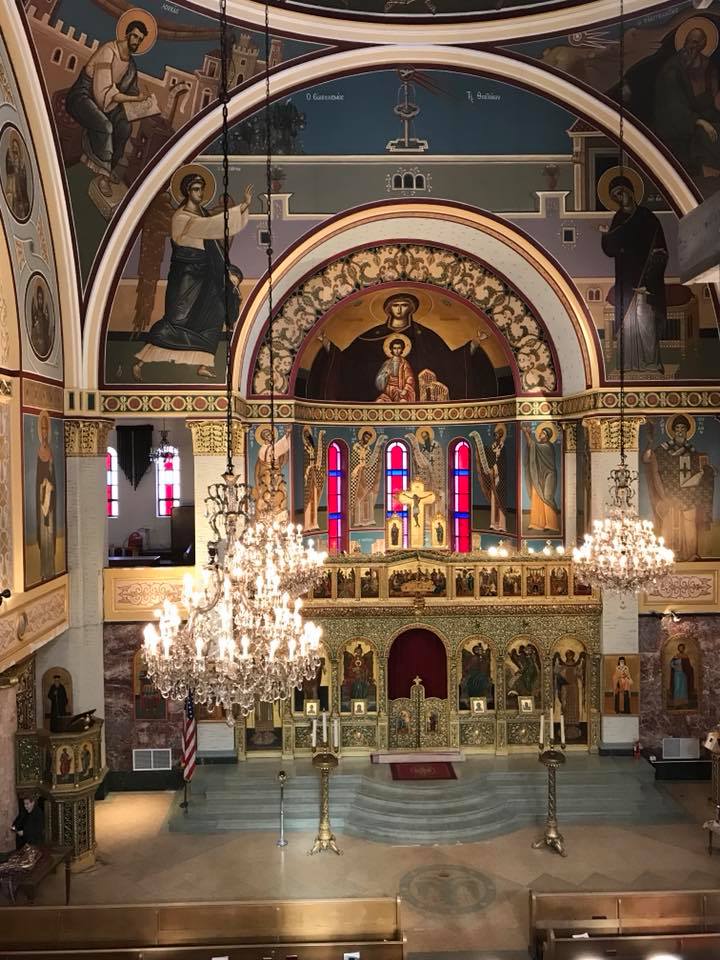 September 2017: Read about the restoration on page 22 of the June-July-Aug 2017 issue of the Orthodox Observer: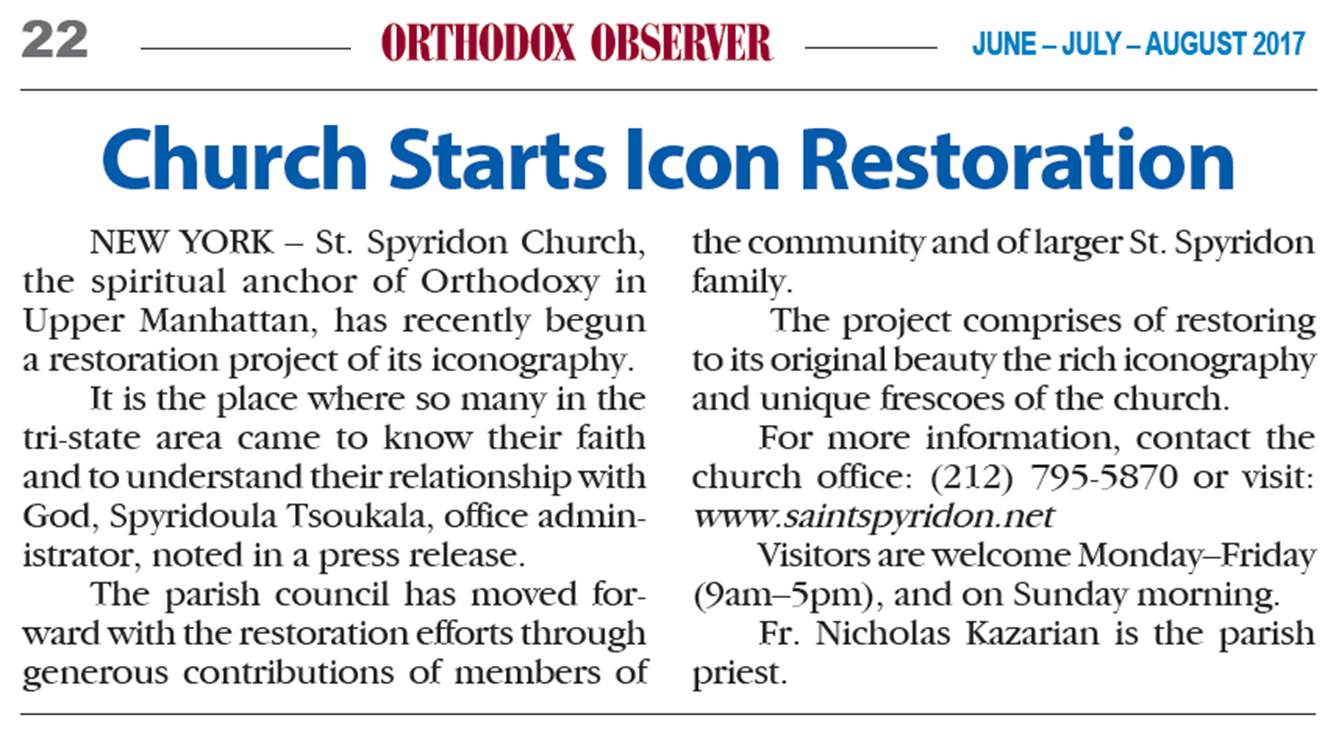 ---
Online Chapel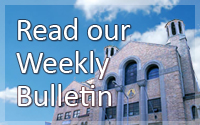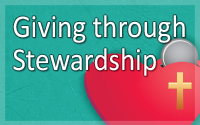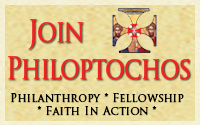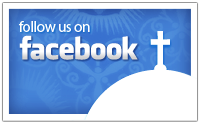 ST. SPYRIDON GREEK ORTHODOX CHURCH
124 Wadsworth Avenue
New York, NY 10033
Phone: (212) 795-5870
Fax: (212) 795-4758
Email: office@saintspyridon.net
Presiding Priest:
Rev. Nicolas Kazarian
For emergencies: (267) 588-2667